In The News:
Interview originally published on iGaming Capital, 2021.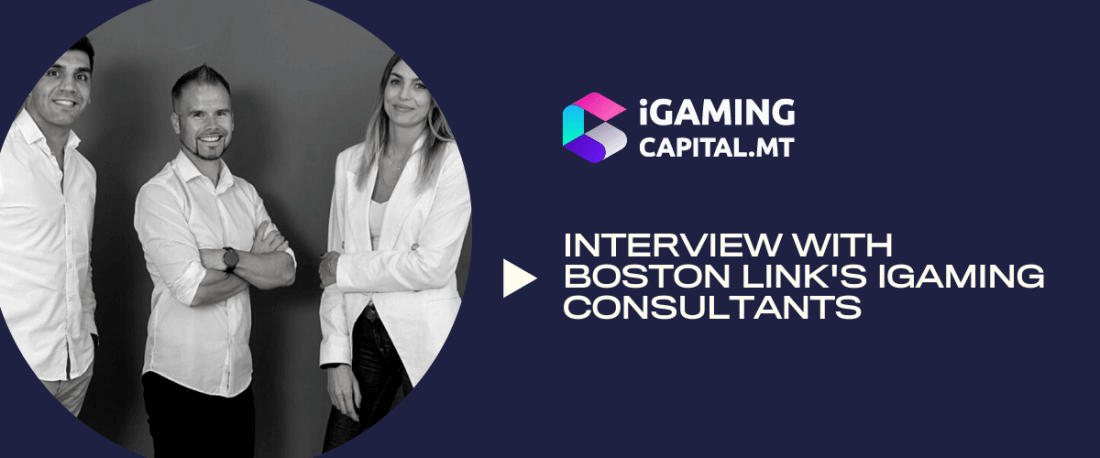 A new era for recruitment in iGaming: 'A new kind of approach to wellness among employees'
The team at Boston Link, a recruitment agency specialised in iGaming, financial services, tech and aviation, delves into the latest industry trends.
The start of 2020 proved to be a disruptive year for all, when chaos and confusion reigned across all sectors and industries the world over at the outbreak and spread of COVID-19. And, for specialists Boston Link – recruitment experts in the fields of iGaming, financial services, technology and aviation with offices in Malta, the UK and Isle of Man – the situation was no different.
In the Boston Link iGaming Salary Survey, published in 2021 and reflecting the previous year, Managing Director Julian Perigo noted a 25 to 30 per cent decrease in the number of jobs available in the sector during the first quarter of 2020. However, by the first quarter of 2021, the number of new job mandates was consistently above pre-COVID levels, reflecting a resilient iGaming jobs market. Here's what the team at Boston Link has to say about current recruitment trends in the industry.
Reflecting on the industry's boom following the initial shock at the outbreak of COVID-19 last year, Boston Link's UK Director, Tom Smelt, says everyone has turned to a form of entertainment that they could enjoy in solitude because of the pandemic – and iGaming was one of them. "It is one of the biggest and fastest-growing entertainment industries now in the US and across Europe."
"Gaming companies have broken a lot of revenue records in 2020, and due to the circumstances that many found themselves in throughout the year, being isolated and with money saved up from a lack of travelling or social activity, there was a notable uptake in online entertainment, including gambling, which resulted in gaming companies needing to recruit more people."
The industry has also experienced some major shifts – with sportsbook taking a hit, companies began to place a greater emphasis on their casino products, attracting and retaining first-time players, while keeping dedicated slot players interested in new and existing products. Tom adds that the industry has seen some large acquisitions take place too, such as NetEnt acquiring Red Tiger, and Evolution acquiring NetEnt, as well as an increase in the number of iGaming start-ups.
Tom asserts that the initial reaction to the pandemic was one of general unease and worry in the industry, which resulted in a dip in the jobs market. "However, companies soon realised that they had more players, were making more money, were busier than ever, and therefore needed to hire more people."
The increase in business, and thus recruitment, could also be attributed to the emergence of new markets, says Tom. "More countries have opened up to the industry, such as Germany, which has introduced iGaming licencing and regulation, driving the need for specialised roles in the areas of law, finance, compliance and due diligence, among others. The potential here is massive, not to mention the US market, which is also gradually opening up to online gaming, one State at a time," he asserts, highlighting Caesars Entertainment's acquisition of William Hill.
Sharing his advice to potential recruits interested in making the move to iGaming, Tom says "make sure you're passionate about the industry – and take it seriously. The competition is tough, and one would do well to get proper training and qualifications," he explains. "For certain roles in legal, finance, compliance and Anti-Money Laundering (AML), this is a must, while for marketing[1]related roles, it's an investment – you have to be really good to do well."
The iGaming sector is widely considered to be a progressive one, leading the way in the fair and indiscriminate recruitment of employees. Indeed, Senior iGaming Consultant, Hilda Rudbo, believes this is the case, both in terms of women's salaries as well as their recruitment for senior roles, in Malta and across Europe.
"Gaming is one of those industries where I've never seen a difference in the way men and women are paid, and maybe that's unusual. In its early days, the gaming industry was a little rough around the edges, but it has really grown and matured, and we see many women appointed to senior positions in gaming companies," says Hilda.
In fact, she adds that the successful recruitment of individuals is generally driven by a candidate's knowledge, "as there isn't a very large pool of people with specialised knowledge of the industry, particularly for higher level positions." Hilda explains, "nowadays, employers are looking for the right requirements, how much you know and how long you've been in the industry, rather than gender. Within many gaming companies, various positions are filled quite equally by men and women," says Hilda. "This scenario is reflected in Malta and across Europe, where we work with clients in a range of locations, including Tallinn, Barcelona, Vienna and Athens."
Turning the focus towards the rise of remote work since the start of the pandemic, has this impacted the attractiveness of the industry among new recruits? Whereas previously, companies placed a lot of emphasis on in-office benefits and perks, the scenario today is radically different, and companies are having to think of new ways to lure top talent to their ranks.
Hilda believes that remote working hasn't dampened the appeal of iGaming companies – in fact, the opposite can be said. "The attractive office environment is still there and still being offered as an option by most companies, but since COVID, many employees are now looking for a remote option as part of their work arrangement, as well as many other WFH benefits, such as child care cost support, so this has been used as a new and tempting benefit for gaming companies to attract new talent."
Going forward, she believes many companies will continue to offer remote work as an option. "It is proven now that remote work can be done without affecting productivity, and many recruits are looking for this kind of flexibility," says Hilda. "In Malta and other European gaming hubs, companies have a great mix of nationalities in their workforce, so having this flexibility is a big benefit for employees who can travel home or spare themselves a long commute to work every day. More and more companies are opening up to this now, and it's perceived as a positive development within the industry by employers and employees alike."
For Senior iGaming Consultant, Anthony Murphy, the biggest trend to emerge from the COVID-19 crisis in the recruitment requirements of gaming companies is undoubtedly the rise of remote working. "The move to a remote lifestyle was met with a bit of trepidation initially, but what we've seen is that innovators tend to do quite well. Employers have come to understand that they have to offer a hybrid or remote option when attracting and hiring talent, and those who really embraced this are ahead of the game."
Additionally, employers are understanding the need to tailor perks and benefits for their employees – a one-size-fits-all approach is no longer deemed the best way forward. Anthony explains that, so far, companies have been quite rigid about the benefits they offer to their staff, irrespective of whether they employ 10 or 200 people, such as an annual gym membership and parking facilities.
"However, not everybody would want €400 to go to the gym – perhaps someone would like to give it to charity, spend it on travel, on something that benefits their mental health, or on a new gadget. This trend started emerging pre-COVID, a new kind of approach to wellness among employees, where employers realised that a blanket approach doesn't work as people have different lifestyles, and so would appreciate different perks."
Anthony continues that the perks typically offered by gaming companies before the pandemic, such as free meals and Friday drinks at the office, also had to be revised. "Companies still want their employees to return to the office, but they've had to re-evaluate what people would buy into, to retain the staff they have and stay ahead of the competition."
Turning to Boston Link's 2021 Salary Survey, I draw Anthony's attention towards an intriguing point –salaries for senior iGaming roles have seen a marked increase over the past year, but the same cannot be said for junior level employees. Sharing his thoughts on the reason behind this, the Consultant says this could be attributed to a larger pool of junior skilled recruits as more people are trying to get into the industry.
"Another reason could be consolidation. There are some big operators taking over smaller companies, who have more freedom and resources to take on junior staff because they have a solid structure and offer a good training programme," says Anthony. "This means they're able to take someone on with little to no experience, enrol them in their training programme, hire for the right attitude and the by-product of that is that they can offer them a lower wage, while offering them the opportunity to move up the ranks."
Sharing what he believes to be the most important factors recruits should consider from a prospective employer when entering the iGaming sector, Tech Consultant Manager, Lourens Pahud de Mortanges, says with Malta being such a small country, "really do consider your network – who already works here or has worked here before."
Lourens also highlights the importance of company culture, and whether the company one is looking to move to practices a work culture that is deemed attractive. "It's important to consider more than 'I want to work in iGaming'. You should think what you would like to achieve whilst working in the industry – would you like to work for an operator, supplier or affiliate? They are different businesses, offering different products and ultimately you should really get your head around what matters to you and the business you work in."
Indeed, he advises to "think about the long-term plan, and what your career goals align to. In fact, your work should be your passion, you should enjoy it because it is a big chunk of your life. Boston Link is in a really lucky position to have a good overview of the whole industry, so we can guide candidates to understand the industry and choose the best culture that suits them."
Offering a snapshot of the industry's top role requirements in today's climate, Lourens asserts "iGaming is a strong market, but if there had to be cutbacks, those in tech are always the last people standing, which includes a diverse range of roles, from developers to quality assurance specialists and engineers."
And while the demand for talent is strong, standing out in such a fast-paced and competitive industry is still no easy task. Lourens recommends that candidates be driven and involved in the company's culture and vision to really make their mark. "We tend to see employers often look for candidates who contribute to the company, those who offer more than just a task 'tick box'. Whether that's participating in cultural zoom quizzes or new projects, or simply helping others in the team, it really pays off to go above and beyond your checklist."
This feature was first carried in the summer edition of iGaming Capital magazine
More from Boston Link Salary Survey: What are the most in demand jobs of 2021?