Expert view:
Compliance guru Eric Frank on navigating iGaming industry regulations
Compliance is key to running a successful iGaming enterprise. So how do you make sure your company is ticking the right boxes? And what's the best way to ensure your employees follow the rules?
We caught up with iGaming industry compliance expert Eric Frank to find out how to keep your customers and employees happy while staying on the right side of the law.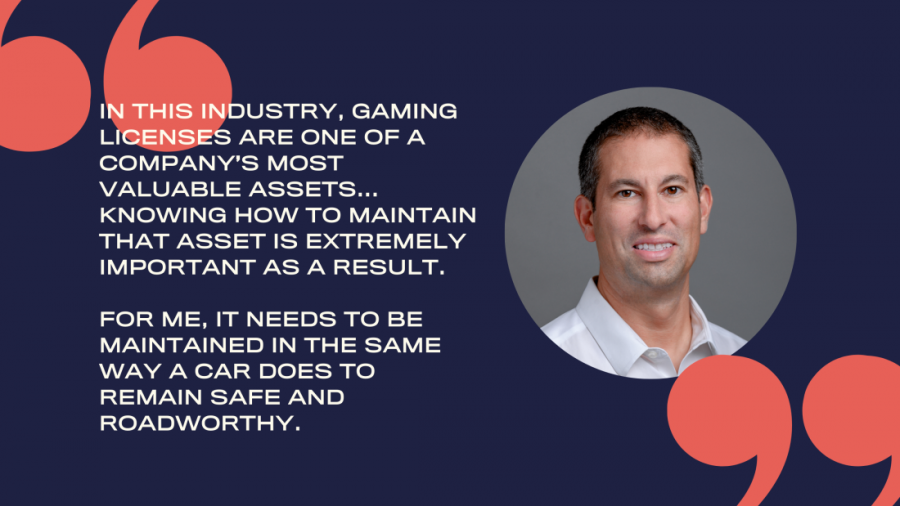 About Eric Frank
Founder of iGaming industry partner EDF Compliance, Eric Frank is an expert in navigating complex compliance and regulatory matters around the world. As principal legal adviser for regulatory, licensing, and compliance matters in the USA, Latin American, and Asia for Stars Group, one of the world's largest iGaming companies, he has managed global compliance teams with responsibilities in more than 20 licensed markets worldwide.
He also has more than a decade of experience in private practice at one of the world's largest law firms, advising iGaming clients on regulatory matters. During the course of his career, he has also worked closely with federal, state, and international governments, drafting statutes and regulations and advising on policy.
"In this industry, gaming licenses are one of a company's most valuable assets," says Frank, who lives in Florida, USA with his wife and two children. "Knowing how to maintain that asset is extremely important as a result. For me, it needs to be maintained in the same way a car does to remain safe and roadworthy."
How important is compliance to a company in the iGaming sector?
IGaming companies, more than almost any other sort of business, rely on their relationships with regulators.
"All companies in all sectors have to follow certain laws and meet certain requirements, such as adhering to anti-corruption and bribery regulations," Frank says.
"But iGaming is a highly regulated industry, so good relationships with regulators can be incredibly valuable. The quality of the documents and submissions you make can make a big difference to overall metrics and efficiency. If it's done properly, it makes things a lot quicker and easier."
For this to be achieved, he believes the message needs to come from the very top.
"Within iGaming, compliance needs to start at the top," Frank adds. "In other words, the senior leadership and management of a company has to send out the right message by creating an ethical and compliant culture."
Should compliance be built across a company culture or be handled by a specific department?
Compliance departments sometimes struggle to communicate what they are trying to do and why to other parts of a business. By building a level of compliance into company culture, Frank thinks executives can help to break down these barriers, allowing the compliance department to work harmoniously with other teams.
"Not every individual in a company needs to understand all the ins and outs of compliance, but there should be a general understanding of the importance of compliance across the organisation," he says.
"It's crucial that compliance departments are seen as partners rather than blockers to the rest of the business. I can understand why some other departments view compliance teams in this way, but it's something I think it's important to work hard to change. The key is for there to be partnership from both sides."
How can companies ensure all employees are compliant in their actions?
To make the right decisions, employees need to understand the regulations governing their actions. As a result, Frank recommends low-level compliance training is provided to all those working in the iGaming industry.
"Protocols and training exercises are an important part of compliance and should not just be treated as tick box exercises," he says.
It's one of the ways external compliance partners such as his business can help iGaming companies to manage their obligations.
"The aim of EDF Compliance is to help companies to manage the regulatory hurdles they are facing, particularly in the US market," Frank adds. "We have both new and established clients, so we deal with everything from getting set up in a new market to processing initial licenses."
Find the compliance experts you need
Boston Link can help you take on the talent you need to meet your compliance requirements at the same time as running your business in a way that keeps both your employees and your customers happy.
Find out more about current recruitment trends in the iGaming sector by reading our recent blog: A new era for recruitment in iGaming.